---
Aeropress Away the Heat
Hi everyone, I came across an Aeropress in our kitchen and decided to mess around with it. With weather pretty much having gone from winter and straight into summer, it's gotten rather hot lately. After seeing a post on Reddit about cold brewing with the Aeropress, I decided that I would give it a try myself. Being relatively impatient, I really hoped that it would work, so I'd have a lazier way to make iced coffee. Sadly, I don't know much about the Aeropress, so I snagged Andrew, our CS manager to help me.
For starters, here's what we used to conduct our test (I apologize in advance for our Cinco de Mayo tablecloth).
Experiment Parameters
We gradually became less scientific about brewing as we went on. Our variables and results are listed below:
6oz of cold water and 2 level tablespoons of coffee, espresso grind, 1 minute steep time, inverted brew - Relatively weak cup, somewhat tart.
8oz of cold water and 4 level tablespoons of coffee, espresso grind, 1 minute steep time, inverted brew - Somewhat stronger cup yet more bitter cup, not quite to our tastes though.
6oz of cold water and 3 heaping tablespoons of coffee, espresso grind, 2 ½ minute steep time, regular brew - Looked like coffee, tasted like coffee, didn't melt any ice!
Analyzing the Results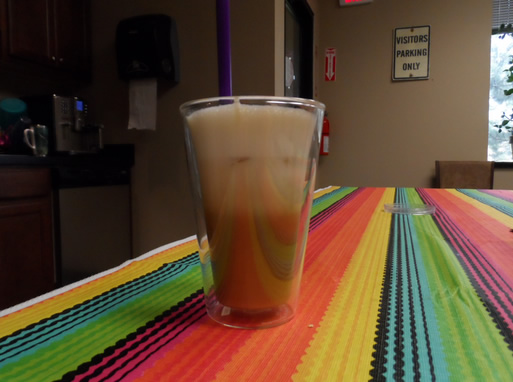 So, was our experiment a success? I'd say yes it was. It took us a bit of tinkering, but in the end we managed to produce a drinkable cup of coffee using cold water and an Aeropress. Would I do it again? Maybe--the Aeropress is extremely easy to use and easy to clean up. I suppose that what I liked best was how potent and smooth the coffee was after adjusting the variables to our liking. It was too cold to melt much of the ice, so the flavor wasn't diluted. It's definitely something to try if you want some cold coffee and have an Aeropress laying around.
Conveniently, we had some surplus Ghirardelli Caramel sauce, a Jura Froth Pro and a near-expiration gallon of milk that we were able to combine to create a smooth cold foamed sweetened milk drink. We present to you the iced cappuccino pictured below.
Here are some "fun" pictures for your enjoyment!