Earn Latte Rewards easily and instantly!
We love our customers, and our customers love Latte Rewards. At Whole Latte Love, we show you the love by giving you many easy ways to earn points that you can spend site wide on all things coffee. Use your points to purchase coffee or gifts, or to save up toward that fabulous espresso machine you've had your eye on.
Create an account and get started now!
Want to receive balance updates and notices about your Latte Rewards balance? Visit the Latte Reward Points section of your account dashboard and sign up for notifications!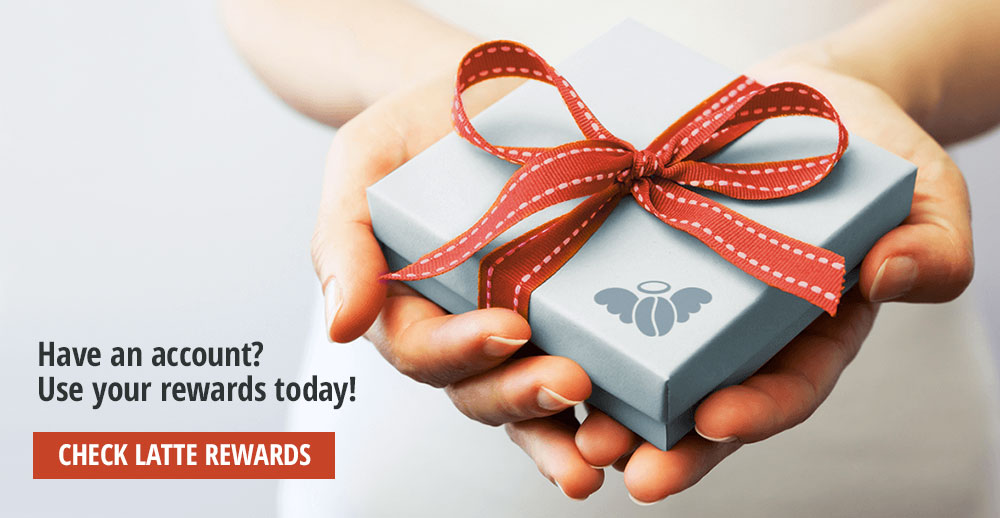 Latte Rewards FAQ
---
Our Latte Rewards program is available to any customer with a registered online account. For every purchase you earn rewards towards a future order. To register for our rewards program, please click here to sign up.
In order to earn rewards on your purchases, you must have a registered account with us online. Your purchase must be made while logged in on our website, or placed over the phone to accrue rewards.
Note: Any orders placed as a guest checkout are excluded from our rewards program. There are no exceptions to this policy.
You must be a registered member of our website to be eligible for our rewards program. Each purchase earns a percentage of the price paid for your order in the form of rewards points.
Your reward points will be visible under the Latte Reward Points section of your account page and will remain available for one calendar year (365 days) from the date they are issued.
To view your Latte Rewards, you must first sign into your account and click Latte Reward Points on your account dashboard or click here if you are already signed in.
Once you have available rewards points, simply log in to the website to apply them toward a purchase. Begin placing your order and when you are ready, proceed to checkout. When you reach the payment screen, the option to apply your rewards points will be located below the credit card information box. Click to apply your points to the order, their value will be deducted from your total. After that, simply enter your form of payment for the remaining balance and complete your order.
Note: If you do not select your rewards points and your order is processed, we are not able to retroactively apply them to your purchase. Your points must be applied at the payment screen. There are no exceptions to this policy.
Latte Rewards are bound to the account under which the original order was placed. If you were logged in at the time of checkout, your rewards will will appear under the Latte Rewards Points section of your My Account page.
Note: If your order was completed as a guest, it will not be eligible for the Latte Rewards program.
Commercial products are excluded from the program and do not accrue any rewards regardless of how the item was purchased.
All guest checkout orders or orders completed as a non-registered user are not eligible for our Latte Rewards program.

Any orders that have already been processed cannot have rewards retroactively applied to them. There are no exceptions to this policy.
If you checked out as a guest on our website when your order was placed, that order will not be eligible for accruing rewards. We cannot link the order to an account made after the order has been placed. There are no exceptions to this policy.
To earn rewards on orders placed over the phone, you will need to register as a member on our website. Once you have registered, the rewards will be issued upon completion of your transaction. If you do not see your rewards after registering, please contact a member of our Customer Service team for further assistance.
Yes, your Latte Rewards are immediately available for use towards a future purchase.
Note: Once an order has been placed we cannot retroactively apply any rewards points to the purchase.
Once Latte Rewards expire, they cannot be reissued. There are no exceptions to this policy.
Rewards points cannot be transferred or gifted between accounts. There are no exceptions to this rule.
Back in March of 2015 we changed our Latte Rewards program. Any orders placed prior to that time are not eligible for rewards and any expired rewards cannot be reinstated. There are no exceptions to this policy.
Prior to March of 2015 our rewards program was as follows:
You must accumulate a minimum of $5 in Pending Latte Rewards ($250 in eligible purchases) before they may be redeemed as Gift Codes.

Each Order's Pending Rewards must be at least 60 days past the date on which the order under which they were earned was shipped in order to be eligible for redemption.

Latte Rewards expired 90 days from the date they are were redeemed as a gift codes.
Note: Since we started our Latte Rewards program in 2013, we received a great deal of feedback regarding from our customers. Now, Latte Rewards are issued immediately after every eligible purchase with no minimum balance required and do not expire for one year (365 days) from date of issue.