Since our humble beginnings as a family owned business started in the basement of our co-founders home in 1997, we at Whole Latte Love have spent the past 25 years establishing ourselves as the largest online retailer of espresso machines and coffee in North America.
To celebrate a quarter century of sales, success and countless memories made, we've decided to take a trip down memory lane.
Join us as we look back at the past 25 years of Whole Latte Love, as well as take a glimpse into what the future holds for the Internet's leader in everything coffee and espresso.
What's in a Name?
First things first, why are we named Whole Latte Love? If you're of a certain age, and/or a music connoisseur, your first guess is probably the correct answer.
Our co-founder, Gary Salzman, is a huge fan of the Led Zeppelin classic Whole Lotta Love, and used the iconic track as inspiration when it came to naming his upstart business, alongside his wife and co-founder, Lauren Salzman.
"When it came to choosing a name, our priority was to establish a brand that resonates with people," said Gary. "We thought that a play on an already recognizable name could be a good idea, and when Whole Latte Love came up we agreed that it was the way to go. The name almost immediately stuck, and people certainly remembered us and the experience we provided. That has been and always will be really important."
The Founding Family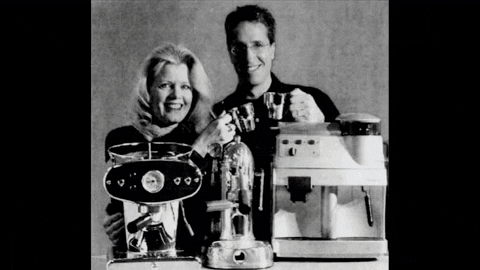 As for the Salzmans', they started their family owned business from their upstate New York home all those years ago, and things have remained in the family ever since.
It was also in the Salzman's home that our unmatched dedication to quality was born. Long before we had a team of experts to conduct research and testing, Gary and Lauren worked together in the kitchen of their home to test each and every machine to ensure only the best products were featured in our original catalog.
Flash forward 25 years and while Lauren has recently retired, Gary remains actively involved in day-to-day operation, and their children Jesse and Amanda now also play a vital role as our Director of Operations and Communications Manager, respectively.
Gary's brother, Todd, who was one of our first-ever employees, also remains a key member of the Whole Latte Love staff as our current Vice President of Sales and Product Development.
We pride ourselves in our family atmosphere, so in addition to blood relatives, we consider each of our current 60-plus employees, as well as our thousands of customers, members of our family.
"We're very much a family business," said Gary. "But I like to call it an extended family business because you don't have to share the Salzman name to be a family member at Whole Latte Love. It's very important that everybody who works here has a voice, and that we listen to them. This allows us to continue to adapt because we feel everyone has great ideas and can leave their mark on the legacy of the company. We're a team and we're a family, and I want to thank everyone who has ever worked to help us get to where we are."
The Early Years
Prior to making the leap to start Whole Latte Love, Gary worked in finance and Lauren worked as a graphic and web designer. After attempting to work their desk jobs and run their new business simultaneously, the pair decided to make Whole Latte Love their sole endeavor in 1998.
"In the beginning, we would work everyday from 8 in the morning to 11 at night," said Gary. "At night we would take phone calls; back then we used a pager. During the day, Lauren and I worked our full time jobs, and we would make more calls during our lunch hour. We also used the lunch break to take orders to UPS and hand label all the shipment going out. It was certainly a labor of love."
Jesse and Amanda were children at the time, which further compounded both the risk Gary and Lauren were willing to take and the confidence the pair had in an online espresso machine retail company in the early days of the internet despite having to support a family of four.
For the first few years, our staff consisted of just a handful of employees, namely Gary, Lauren and Todd. Lauren was also the mastermind behind the original website design and logo.
In addition to their primary roles, everyone in the small team also worked in sales, customer service, technical support and design, serving as precursors to the fully staffed departments we now employ.
Why Espresso Machines?
"When we started, the internet was very new and the idea of selling on the web presented a lot of challenges," said Gary. "But before we could even tackle the challenges of selling on the internet, we faced the biggest challenge of them all: what should we sell that people will want to buy?"
To help with the decision making process, Gary conferred with a friend who was a manufacturer's rep at the time who showed him different products he had available at the time.
"He (my friend) showed me some of the products that he had and nothing really interested me," Gary said. "That all changed when he showed me an espresso machine. It was a Solis SL 90, and as soon as I saw it, I instantly knew I was going to build my business around espresso machines, products and coffee."
Salzman's inspiration to center his business around espresso machines, as well as the third-wave coffee movement that was burgeoning around the same time, made his and Lauren's decision a no-brainer.
"In the late 90s, coffee culture was resurging in the United States," Gary said. "Since then, that culture has done nothing but grown leaps and bounds. And we like to think we've played a role in that along the way."
Expanding the Business
As our business grew, so did the demand for additional space to conduct business and house inventory. In just a few years, our center of business operations expanded from the Salzman's home to our first commercial location in the early 2000s.
"When we operated out of our home, we eventually set up a system where UPS would stop by the house every day," Gary said. "Every week the size of the orders got a little bigger, and eventually the town supervisor came knocking on our door to tell us we couldn't run a full-fledged business out of our house. He could come time after time, and every time I would smirk and say 'I don't see any trucks, do you?' because they would be long gone by the time he showed up. We continued that song and dance for a while until we expanded to our first commercial location."
It was here that a number of current innovations came to be. Salzman Group Inc. was created to serve as the proprietor for Whole Latte Love, as well as other business ventures taken on by the Salzmans.
If you've ever heard of the term "Prosumer," this is also around the time Gary invented the term. It all started with the Pasquini Livia 90, the first machine to ever successfully combine commercial grade equipment and components with a user-friendly layout and accessible features in a way that allowed home baristas to make cafe style espresso with ease.
"Many years ago I met with Guy Pasquini, who still owns Pasquini Coffee Co. to this day, and he showed me this machine, the Livia 90," Gary said. "At the time it was just being sold to cafes and businesses, but I took one look at it and said 'I can sell that' with the idea that customers could have a professional quality machine in their home. He looked at me like I was crazy."
At the time the market for high-end machines for at-home use was almost non-existent, so Salzman made the decision to pioneer what is now called the "Prosumer" category of espresso machines.
"Once we sold enough of this type of machine, we felt the need to give it its own category," Gary said. "They were professional, but also for the consumer; hence the name 'Prosumer.'
When it comes to modern Prosumer machines, our current catalog consists of nearly 200 machines from more than a dozen manufacturers, with more being conceptualized and created each and every day.
We made our foray into our own line of coffee during this time as well. Our most notable blends through the years include Unconditional, Ethereal and Buzzopolis, among others. If you've had any of these blends you'll probably remember how delicious they are, as well as the beautiful packaging artwork, designed by Lauren and a few artistic customers.
Nowadays our flagship blends are Crema Wave and Beamed Up, which also happen to be some of our best-sellers. The packaging of the two standout blends was designed by two of our staff designers, with direction from Jesse.
Our Current Home
With business continuing to expand, we made the decision in the late 2000s to move to our current location. It was here our trajectory as a thriving business launched into the stratosphere, thanks in large part to the emergence of social media and our continued prioritization of innovation.
YouTube and Social Media
Four short years after the launch of YouTube, we began our online media presence with the official Whole Latte Love channel in 2009.
Our first video was an introduction to the Gaggia Platinum Swing, and features the talents of Todd Salzman and Tracy Schafer. Watch it here!
Since then, our YouTube channel has accumulated more than 87 million views, and has become a focal point in interacting with our passionate customers, in addition to keeping them up-to-date on our latest products and promotions.
"Before YouTube, the first videos we ever did were on how to use our equipment," said Gary. "Back then I was the one doing the scripts, audio and editing. I was even the hand model in the 'glamour' shots. They were flash videos we put on the website, and burned onto CDs that we included with the machines we shipped out."
Nowadays, in addition to our ever-popular YouTube channel, we also have an active and increasing presence on many of the most popular social media platforms, including Twitter, Instagram, Pinterest, TikTok, and Facebook. Be sure to give us a follow!
While you're at it, we also recommend signing up for email newsletter and text alert notifications, as well as checking out our blog catalog and support center.
Latest Innovations and Trends
A large part of why we have been able to thrive for as long as we have is our ability to constantly innovate and set trends. Here are some of the more recent ones we are proud of.
We recently launched an affiliate program that allows us to pair with influencers to promote our products, and in exchange, allow influencers the opportunity to earn a percentage from every sale that happens after someone clicks the unique affiliate link given to our partners. This program has quickly taken off and led to a variety of unique cross promotions with some of our most avid customers and supporters.
Exclusive customizations for our most popular products has long been a priority of ours. Thanks to the continued effort, leadership and artistic vision of Jesse, the most recent addition to our industry leading catalog of espresso machine customizable products features all-new premium wood species accents like Lacewood, Elm Carpathian Burl, Walnut Burl, Birdseye Maple, Tiger Maple, Sapele, Zebrawood and Wenge exotic accents.
This is in addition to an already robust selection of machine and machine accessory customization options such as premium wood accents like Walnut, Dark Chocolate and Zebrano hydro dipped accents, and mirrored acrylic panel accents, among others.
To further improve the shopping experience, we've also implemented Augmented Reality functionality. Amanda spearheaded the project and learned the software required to recreate select products as 3D scale models that you can view from any angle, right on the product page. From there, you can activate Augmented Reality on a phone or tablet and bring that espresso machine into the real world, placing it right on your kitchen counter with the touch of a button.
This type of AR functionality also works hand-in-hand with our catalog of customizable products to allow our customers to see in 3D what each and every exclusive option looks like. See for yourself!
"We have always done things that nobody else is doing," said Gary. "That goes back to our founding elements: that we are always willing to go the extra mile to provide the best experience possible, and to always continue to build customer confidence."
The Next 25 Years
So, what does the future hold for Whole Latte Love? If the past 25 years are any indication, the next 25 years will be full of just as many memories, success, and innovation.
"I'm really excited about what we have in store," Gary said. "We have some very big projects we plan on implementing in the near future, and we're going to continue to grow, develop and create better customer experiences as we always have."
Another indication of what the future holds is the recent announcement that Whole Latte Love has been awarded on Newsweek's list of America's Fastest Growing Online Shops for 2022. This prestigious award, presented by Newsweek and Statista Inc. and based on an evaluation consisting of sales, traffic, and platform quality, was given to Whole Latte Love as one of the fastest growing E-commerce shops in the Home Appliance category.
This recognition comes just a year after Whole Latte Love was recognized by Newsweek and Statista Inc. as one of America's Best Trending Online Shops in 2021.
Celebrating 25 Years of Brewing
As part of the 25th Anniversary celebration, we are also launching multiple promotions and giveaways throughout the month of October.
Coffee lovers new and old can enter the official Brewing for 25 Years giveaway for a chance to win a $2,500 shopping spree!
Another way to join in on the fun is to enter our Cheers to 25 Years giveaway for a chance to win $25 in Latte Rewards! Weekly winners will be announced each Monday.
In addition to these fantastic prizes, various limited time sales and promotions will be unveiled throughout the month. So, check back with the Whole Latte Love sale page periodically.
Special Thank You
Even 25 years after our inception, our passion and expertise has helped us to form personal relationships with you, the customer. We remain committed to sharing our energy and enthusiasm for all things coffee, and strive to make sure that knowledge passes on to you so you can be as informed as possible before making a purchase.
To us, coffee is more than just a cup, it's a culture of comfort, experience and closeness. At the end of the day, we hope everyone who shops with us feels that way too.